An event to pay tribute to women we have lost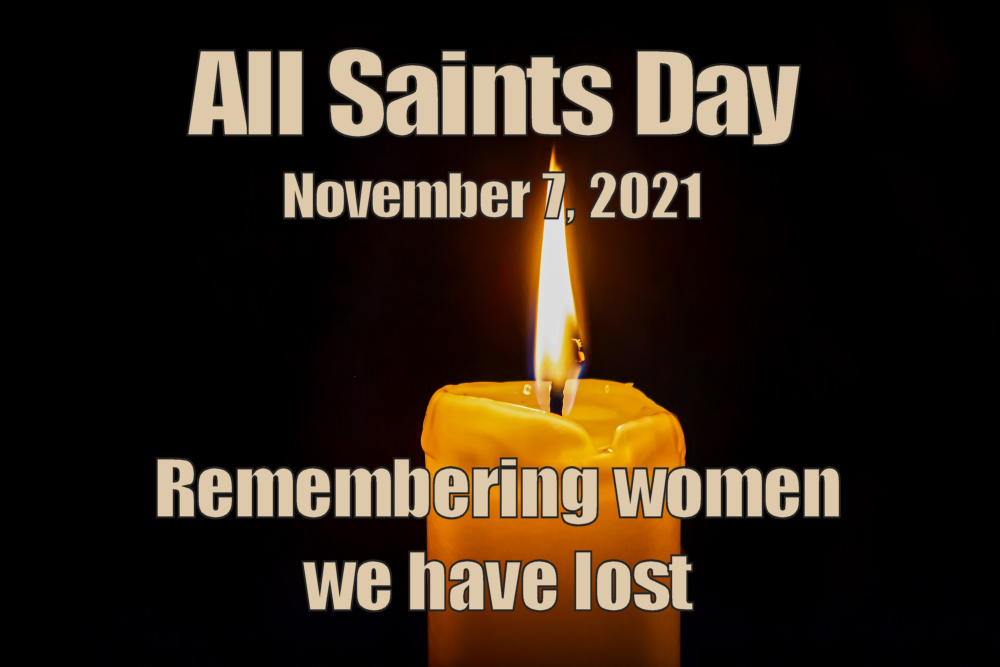 On the afternoon of All Saints Day, November 7, 2021, the United Methodist Women at JWUMC will hold an event to pay tribute to those who passed on to the Church Triumphant in the past 24 months.  Sweets & Cider — A Celebration of Women on All-Saints Day — will remember 10 women and one little girl who touched the lives of so many over the decades at John Wesley.
The reception from 2-4 in the parlor is open to all women of the church. While sign-ups are not necessary, they are appreciated for planning purposes. If you are attending, you can let the UMW know by going to the sign-up listing.
Friends and family members of the 11 ladies below will offer comments about each of those who have passed away.
Sue Almeida
October 8, 1927 – July 7, 2021
Irene Barrineau
August 3, 1944 – February 5, 2021
Ginny Bowen
October 25, 1930 – May 29, 2021
Angela Bruce
January 29, 1953 – June 9, 2021

Nadine Burkey




Dec. 9, 1926 – Dec. 11, 2020

Angela Powers




November 23, 1960 – June 12, 2021

Juanita Schutt




December 1, 1921 – March 31, 2020

 Virginia Sharp




May 24, 1927 – August 20, 2020

Doris Sigwald




February 2, 1927 – November 18, 2020

Lou Taylor




September 5, 1938 – February 24, 2020

Lily Smith




? 2009 – August  3, 2021