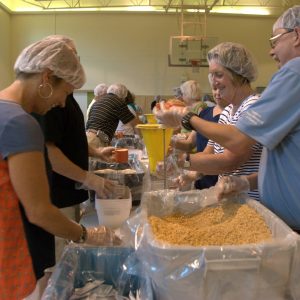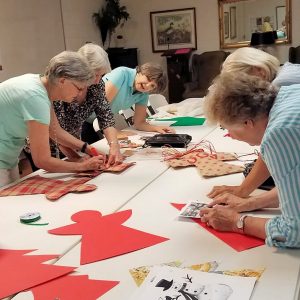 FIND YOUR GROUP
John Wesley is a large family with lots of different ways that you can get plugged in.
Interested in a small group or Bible study? Check out our Sunday School opportunities, Wednesday Night Out programs or Music Ministry.
Are you a people-person? We have greeters and ushers at all services and people who work the Coffee Spot to welcome those coming on Sunday mornings. 
Do you have a heart for service? We have special days for church-wide work helping others as well as smaller groups that take on community projects or show love to those with individual needs.
Are you a natural organizer? We have many administrative tasks from communications to counting collections that need volunteers.
Want to be part of an ongoing group?  We have many groups that can use your talents and help you connect with the larger congregation. 
GET INVOLVED BY SERVING OTHERS
BLESSING BOXES
Help feed the homeless and the hungry by picking up some extra non-perishable groceries and leaving them in the blessing box at the church or at any of the other dozens of locations in West Ashley. No need to coordinate with anyone. Just drop off the food whenever you can.
STEPHEN MINISTRY
Stephen Ministry is a caring ministry for those who are going through a difficult time such as grief, divorce, chronic illness, job loss, adoption or deployment. Stephen Ministers are members who are trained to provide Christ-centered, one-on-one confidential care by being compassionate listeners and praying with those receiving the care. 
CONGREGATIONAL CARE
This ministry serves the homebound and the sick through visitation and prayer as well as bringing Communion into the homes of disciples who are unable to attaworship.  Some of the elements of this ministry include homebound visitations, prayer quilt ministry, delivery of flowers after Sunday Worship, prayers for our Church and community.
BEYOND OUR CHURCH FAMILY 
We hope to show the light and love of Jesus Christ through mission, evangelism and advocacy. As long as there are those who are experiencing want, loss, illness or crisis, we are called to reach out, lift up and empower so that the comfort of His love prevails.  Some of the ways we reach out to others include serving at Star Gospel Mission, Rise Against Hunger, and HALOS.
DINNER WITH FRIENDS
Wonderful Wednesdays
Skip the grocery store, stay out of the kitchen and come connect with others of all ages on Wednesday nights from September to May. This is a great chance to get to know your fellow Church goers in a more informal setting. There is a charge for dinners — usually around $7 for adults — and a maximum of $20 per family. Come for dinner. Stay for Bible studies, music programs for children, or other church activities. These ministries are a good opportunity to recharge your faith batteries midweek during your busy life!
Evening schedule for 2022-2023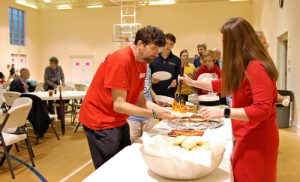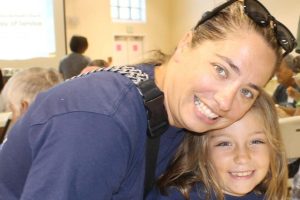 COME WORSHIP WITH US
Therefore encourage one another and build one another up, just as you are doing.
1 Thessalonians 5:11