People see the kingdom of God in what we do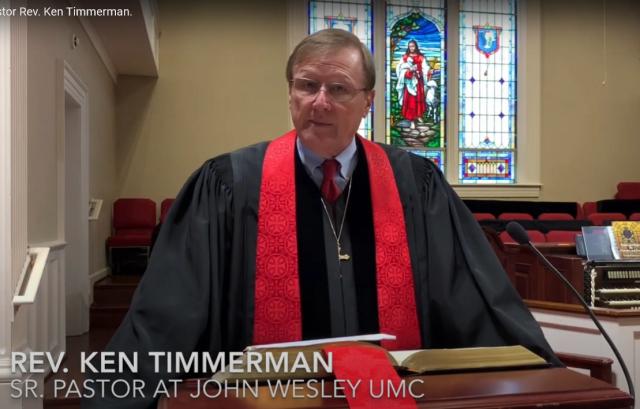 Parson to Person Column – Week of May 11-17
Her name is Michelle. As a little girl, she loved to be a help to her Mom, and daily she would go and retrieve the mail. She had to cross a road that was never too busy with traffic. Yet, she would stop and look both ways before crossing to go and get the mail. One Friday, for whatever reason, she did not look and there was a car. Her mother heard the screeching of brakes and as she ran outside, she saw her child "flying through the air." When her mother got to her, Michelle was face-down and her leg was on her back. She wasn't breathing! They hurriedly got her to University Hospital where the doctors indicated she would live, but there would be brain damage. Also, she would walk with a pronounced limp because of what they had to do to repair her severely damaged leg.
I met Michelle when I was sent as a student supply to Capers Chapel. It took great effort for her to walk, as one leg had to remain straight. For whatever reason, Michelle loved me. I know that because Michelle told me every Sunday, "I LOOOVE YOU!!!"
The amazing thing happened during the children's time. When all the children came and we sat in the floor…Michelle had to make a great effort to get down with us. She had to keep her leg straight and so she sat with one leg bent and the other leg straight. And then the most wonderful things happened. Week by week…one by one…with no prompting from adults…those children began sitting with one leg bent and one leg straight so Michelle would not feel different. In that moment, you could see the Kingdom of God. Letting people see the Kingdom of God at work in us during stressful times is so important. We do not allow hard times to steal our faith or compromise our discipleship because we want the fruit of God's Holy Spirit growing in us no matter what life may bring.
---
That is one of the reasons Jesus spoke to his "followers" and "disciples" in descriptive language about the Kingdom of God. There was certainly more to the Kingdom and to the faith than they imagined. Jesus wanted those who "followed" him…those agreeing to bear his name and holiness, to understand the facts before they "jumped" into the faith. Therefore, Jesus filled the role of teacher and spoke to them words about the Kingdom and spoke to the pace disciples have within it. Disciple, by the way, means "learner." Knowing this alters the way we view worship and Sunday School. We come each week as "learners." Sunday morning is a time for learning about faith and service.

There are essential things for "followers" and "disciples" to learn about the life of faith. Faith begins with a relationship that starts with repentance and a willingness to embrace the salvation kind of life. Salvation begins with gratitude for mercy…and then lives itself out in the actions we have toward others. The reason for this is not hard to understand. We have to look to God in all issues because our understandings and ideas will always be flawed when compared to God's perfection. God will never ask our advice about how life should be lived, because within us all is a self-awareness feature that says "I want life the way I want it." In the face of that, Jesus speaks of simple acts. He doesn't ask us to go to the Congo to be lifelong missionaries in his invitation to discipleship. He doesn't ask us to stand in front of Walmart and preach. He asks for simple things that anyone can do: Food, drink, visits. Simple things.

When Jesus spoke of these things as indicators of discipleship…those who listened asked, "When Lord? When did we see you and do these things for you or not do them for you?" And Jesus said some of the most powerful words ever given. "Inasmuch as you have done it unto the least of these, my brothers and sisters, you have done it unto me." That is an important part of living the Gospel. I have never liked the phrase "random acts of kindness" because I believe kindness is inspired by God. There is very little randomness about it. We don't just wake up one morning and say, "I'll be kind to someone today." God's spirit prompts us to kindness and giving the best of ourselves for the good of others. That's the nature and spirit of the church, and Jesus wants it to become, for us, something that we do that is as natural as breathing. Look up in your Bibles the fruits of the spirit. (Hint: Galatians 5:22-23) Copy the list. Put it on your refrigerator door. Let it become a constant reminder of our purpose as "learners" of Jesus Christ. Remember, that when Jesus is the Lord of our lives and hearts, these are the fruits that grow within us. Our goal is to become more like Jesus. This is one reason the church is such a positive place. The church is also a place that lives by guidance from above and doesn't employ the "ways of the world" to conduct its life.

I am one who is opposed to the church trying to act like the rest of the world. Some years ago, I participated in an annual seminar sponsored by Willow Creek Community Church in Chicago. The purpose of the seminar was to bring in effective business, money, and political leaders to speak about the place of faith in their lives, but they also offered the church guidance on business principles. Many a church determined to let "business principles" become the guiding force of their church. I even considered it. However, after years of pondering that idea, I find that the church wanting to apply business principles to its operation as the sole guide makes a church that is sadly lacking. Yes, the church must exercise good business practices in its operation, but the church must not do so at the expense of reducing the faith principles that live at our core.
The church cannot become a place that just seeks the "bottom line." Our Lord taught us that there is more to giving than just amounts. The widow who had two mites was said to have given more than all others combined because she gave all she had. It was sacrificial, and it was motivated by faith and love for God. The church lives by the faithful giving of its people motivated by our love for God. Our God takes what people give faithfully and sacrificially and "multiplies it." The church cannot think in terms of profit and loss because we have no product we sell and no estimates of how much we can get for our product. The church counts on devotion to God for its giving. The giving will always be driven by disciples who discover a faith that guides all they do for the Lord.

In the United Methodist Church, we can strengthen our understandings of tithing and stewardship. I like what Pat Hogan, our Administrative Council Chairperson, has said on different occasions. "Anyone who has decided to tithe, will never look back and say I regret making that decision." (paraphrased) In our church, when we give we give to God. It's as though we are putting it in God's own hand. We do not give to a budget or a program. A budget in the church is merely a guide for the ministry we plan to do.

I told someone last Sunday that John Wesley Church can do amazing things for the Kingdom and there will be no limits. That person immediately agreed. Many churches make decisions based on whether they can say "yes" or not. The strong church doesn't deliberate over "yes" or "no." When a church knows it is being led by God, the question asked is, "How do we accomplish it?" I see us as a church on the move, and I sense a church where the "learners" are growing in faith and devotion. The Spirit is easily felt in our worship experiences. I see God's Spirit growing in us. I see people praying about having a deeper walk of faith and I see people reclaiming Sabbath. I watch as folks offer themselves in service as a visible sign of God's grace at work within their hearts. I see people making Sunday mornings the "John Wesley place to be." I love the Steeple on our Church because with the cross at its pinnacle it reminds me that "all we do here falls beneath the shadow of the cross." What better place to be and learn?

In the coming months, I ask that our people consider some important things:
Pray for the church as we consider pandemic protocols and their changing status. Vaccinations are increasing, mask ordinances are being considered by county and city and State, and some degree of "normalcy" is looming on the horizon.
Pastor Steve and I are looking at the beginnings of visitation again. MUSC has lifted their pastoral visitation restrictions related to Covid-19 and we are looking at when and how visits will begin and look. At the appropriate time we will invite you to contact the church office and let us know of your desire to have a visit. Vaccinations will be a required thing for these visits to happen as we begin this initial process. Keep your eyes "connected" to our weekly eblast for more information.
Pray and determine when your family can "safely" return to in person worship. Isolation is not a gift of the spirit. We were made for each other and being together is important to the church's life. The church is collective and it is community. It is important in future days to regain what the pandemic has tried its best to steal from the church. Pray for the church. We have people returning to worship and we have people visiting our church. I believe people have missed the church experience and the togetherness. Coming back together will help the church finds a renewed strength and power.
Start saving some funds now for the capital Funds campaign which will come in January 2022. Preparation will help us fulfill our obligations on the money borrowed to do the needed renovations.
I am asking our church to move toward paying 100% of its Conference Apportionments. Apportionments are not a tax levied on a local church by the Conference. They are our fair share, calculated from actual expenditures over a four-year period of time. Apportionments fund ministry beyond our local church. In future days, I will present a list of items from our apportionments and explain how these items represent ministry and the people who do it. Every church in our denomination has a commitment to make to apportionments. I'm pleased our leadership wants to do this.
Lastly, consider our Spirit rather than just numbers. Growing in faith and practice is vital. Taking the Scriptures seriously and following God's truth revealed in the Bible are essential. Our purpose is to "make disciples for the transformation of the world." The only way that happens is through inviting people to come to the cross and discover a life of discipleship through walking with Christ.
I believe that people can see the Kingdom of God in how we live and in what we do.
Ken Timmerman