Seeking part-time nursery workers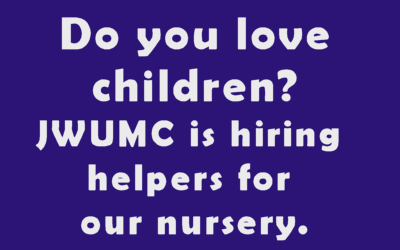 We are looking for additional Part- time paid Nursery Workers to care for our infants and toddlers!
ATTENTION:   Compensation for the right person is $13 an hour.
Hours and days needed:  Sunday mornings – 8am-12:30pm
   Wednesday evenings – 5:15pm-7:30pm, (September through May)
   Other Worship Services:  Christmas Eve and Easter Week
   Occasionally: Special Events
Job Title:  Nursery Worker
Location:  John Wesley United Methodist Church, 626 Savannah Highway, Charleston
This position reports to:  Director of Nurseries and Childcare
Mission:  To provide dependable, safe, secure and nurturing care to the children while their parent(s) attend worship service, Sunday School or other special or evening events at John Wesley United Methodist Church.  
Key Responsibilities:
Provide age-appropriate care which includes: bottle-feeding, changing diapers, escorting to the bathroom, maintaining a safe environment, cheerfully interacting with children through games, stories, play and prayer

Clean all toys and equipment that have been played with using a disinfectant

Check children in and out of nurseries by making sure parents sign children in and have items labeled in bags

Help provide and maintain a Christian environment in which the children may grow physically, emotionally, mentally, socially and spiritually

Exemplify an attitude to serve others

Report all concerns regarding child or parent behaviors to the Director of Nurseries

Greet parents, establish trust and rapport by building relationships with the children in your care
Job Essentials:
Must be 18 years of age or over

Christ Follower

Must consent to and pass a criminal background check

Attend classes, workshops and other training opportunities on site

Upon hiring, must be willing to complete training in John Wesley United Methodist Church's Safe Sanctuary Policies and consent to the adherence to these policies.

Manage priorities and exhibit professional communication

Prior experience in a Child Care setting is preferred
Pay
Submit your resume to info@jwumchurch.org