Fall festival set for Saturday, October 21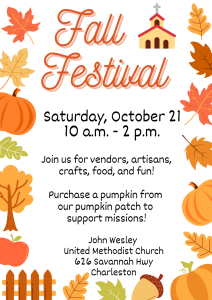 Come celebrate fall and get an early start on your holiday shopping with the annual Fall Festival this Saturday from 10-2 pm in the parking lot beside the pumpkin patch. Sponsored by the United Women in Faith, the festival features more than 20 vendors with everything from art works, woodworking, jewelry, handmade items, treasures and whatnots from our attics, and homemade goodies and drinks.
Support your local crafts people and while you're there, buy a pumpkin to support Youth Missions.
Here's what you need to know:
Date – Saturday, October 21
Time – 10 am – 2 pm
Location – the parking lot of John Wesley United Methodist Church at 626 Savannah Highway.
All proceeds going to the United Women of Faith will go toward projects and outreach of the organization.
Here's a list of vendors as of October 12, 2023:
Earrings by Elin
David Gobel – Artist
Messervy-York Fine Art
Runette Ford
Charleston Totes
Melissa & Avery
Pink Eucalyptus Jewelry and Crafts
Alma Circle – Attic Treasures
David's Custom Woodworking & Lisa's Designs
Cee Renee Collective
Audrey's Artistry
Heidi's Lemonade Stand
West Ashley Vinyl Shop
Carolina Beads by K
Luciana Colavita
Carla's Creations
Whimsical Whatnots
Blessed Me Indeed-1 Chronicles 4:10
Graced Made
Sunset Slush of Summerville
Heidi's Lemonade Stand
Homemade cookies & sweets
 More information – info@jwumchurch.org